At ei Funding, your success is our success. For one of our clients — Unity Vibration Kombucha — they are achieving just that and more, and we're proud to sing their praises.
After working with co-founders Tarek and Rachel Kanaan for almost two years now, we're so delighted to see the tremendous growth their amazing company has achieved. Read all about them in their recent DatingNews.com feature.
About Unity Vibration Kombucha
The first officially designated Kombucha brewery in the country, Unity Vibration is a Michigan-based company that offers some of the highest-quality and best-tasting Kombucha tea and beer available in the world, delivered right to your door.
Due to the natural fermentation that happens during the process of creating Kombucha, Unity Vibration decided to start producing a tasty new beverage option for adults to enjoy responsibly: Kombucha beer. After it was released, it quickly gained a large following and became a go-to drink for many health-minded couples seeking new alcoholic beverages to enjoy during at-home date nights. Unity Vibration's Kombucha beers are made from organic dried hops and use other organic ingredients that are aged and open-air fermented in oak. With traditional beers, the yeast consumes the sugar, creating a by-product: alcohol. Kombucha beer's yeast also consumes the sugar, but the bacteria it contains also removes most of the alcohol, leaving you with a delicious, antioxidant-rich and gluten-free fermented beverage that only has slight traces of alcohol in it.
Unity Vibration is committed to transforming the way people think about Kombucha and innovating to improve the lives of beverage consumers, their employees, their community and the planet.
How ei Funding Helped Unity Vibration on a Path to Success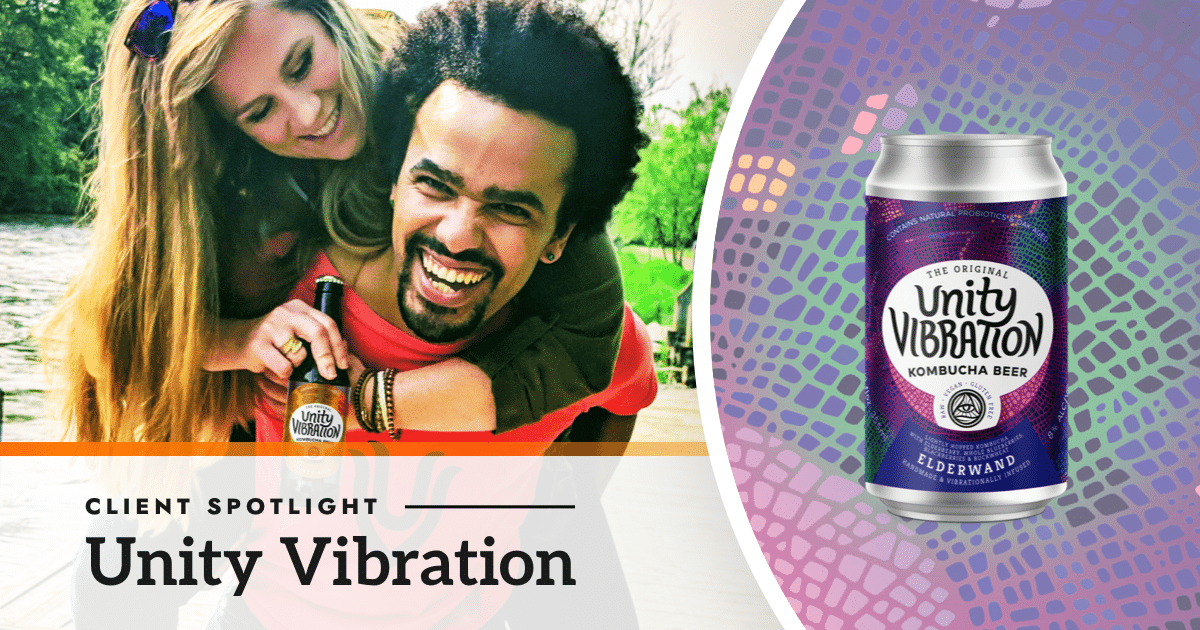 When Unity Vibration came to us, they were in need of stronger cash flow to support their production lead times and sales lead times. With ei Funding, we worked with Tarek and Rachel to identify the services that would really benefit them the most: invoice factoring and P.O. financing (or, purchase order financing) to short up the working capital needed as their business continued its upward growth.
With invoice factoring, Unity Vibration received upfront the cash they needed to pay for production and canning of new orders. This helped boost their productivity and allowed them to focus on their business, rather than constantly being preoccupied with outstanding receivables. When they had questions, we were able to provide them with the guidance and financial advice they needed throughout the process.
With P.O. financing — a form of asset-based financing that provides you the resources to fill orders received from current Customers — Unity Vibration then transformed orders into sales which subsequently became factored invoices.
We've worked with Ernane since last Spring. He's helped us immensely as far as our cash flow. It's been a real game-changer, honestly. He's been keeping things going for us. I wish we had known about Ernane sooner in our business cycle, it would have been really helpful. He's asked 'Do you guys need money? What can I do for you?' He's met us face-to-face and given us that personal touch. He's a very friendly person and I definitely recommend him to any business owner.

— Tarek Kanaan, Unity Vibration Kombucha
What Invoice Factoring Can Do for Your Business
Invoice factoring is an ideal tool for growing businesses, like Unity Vibration, which need working capital to fuel further their growth. In the case of long lead times, like those seen in production or in this case, those for fermenting, bottling, and delivering nationwide Kombucha beer, factoring provides the cash to continue day-to-day operations despite long lead times inherent in certain businesses.
Just as we were able to help Unity Vibration with their cash flow through invoice factoring and P.O. financing, so can we help your business, too. From Kombucha creators and telecom companies to staffing agencies and many others in between, factoring can put the money your business needs right at your fingertips.
Learn more about how businesses can grow using tools like invoice factoring by visiting our blog or contacting us directly.
Find Out How ei Funding Can Help Your Business Too
What to Read Next
SHARE :