When you've been around for as long as I have (nearly 30 years!) you're delighted with any opportunity to be able to share your learnings and experiences. You tend to want to do it a lot but need to be reminded that life is a two-way street and that learning from others is also part of the deal. Taking a cue from my own advice, I decided to come down from my business author and factoring smart-guy pulpit and travel to my home state of Michigan to visit a client of mine and do a little of ABC Sports "up close and personal" type interviewing, made so famous during their historic Olympics coverages and telecasts.
As a result, I spent the day visiting my clients Tarek and Rachel Kanaan, owners and founders of Unity Vibration Living Kombucha Tea LLC, makers of what many consider to be some of the best Kombucha beer in the world! I thought it would be interesting to soak up some of the energy and vibration of Tarek and Rachel's Kombucha beers to see what we could come up with and what I could learn from them in the process.
Unity Vibration's Kombucha beer is made from organic dried hops and uses other organic ingredients including raw ginger root, raspberries, peaches, hops, juniper and grapefruit rind. All aged and open-air- fermented in oak and then bottled or canned. Different from beer where yeast consumes sugar and makes alcohol as a by-product, in Kombucha beer while the yeast is still consuming the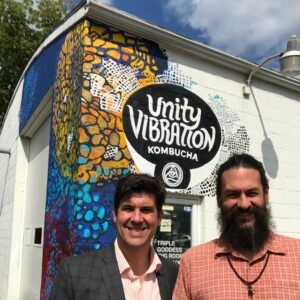 cane sugar, the difference is that the bacteria also removes most of the alcohol, and what you're left with is a fermented beverage with only slight, traces of alcohol. Kombucha is rich in antioxidants and also has antibacterial properties so in addition to being a delicious and refreshing fermented drink it's also good for you. Can't beat that, eh?
Getting back to my visit, here are a few things I learned from the ingenious work of Rachel and Tarek's Unity Vibration Living Kombucha business: Success comes from doing what you love – Tarek and Rachel Kanaan founded Living Kombucha out of their love and passion for artisan-made Kombucha tea, and this passion evolved to larger scale manufacturing and distribution of its derivative, Kombucha beer. They believe whole-heartedly in the varied benefits – health, energy, and even spiritual – that arise from their Kombucha beer and it is this passion that launched and continues to drive their company today. Don't be afraid to make it real, personal, and palpable! So much of what I see in my business dealings is cold, professional, and emotionless business talk. Get out of that set and make it real! At Unity Vibration, Tarek and Rachel are imbibed with passion for their business and they are always using terms that we, as Consumers, can relate to in speech. They share their feelings, emotions, even fears when they talk about their business and their products, and by doing so, make it real, tangible, and personal. It brings us closer to them, thereby creating a real bond to their company, its products, and its story. And it is this emotional bond which helps sell products because we as humans, buy things we like and with which we can identify, personally.
Get closer to your Customers – don't be afraid of your Customers! Rather, do as Rachel and Tarek do, and as I have also done on this trip to visit them — travel with them, do projects with them, and experiment with them. Explore things with your Customers! Some may work out, some may not. But the successful projects will benefit you both and in the end, will create new bonds, that are stronger, more intimate, and will serve your relationships for years to come as each of you, in your respective roles as Client and Vendor, grow your businesses.
Don't be dismayed by having to start small – we have become a society that thinks every company has to be a private equity start-up that in a short time explodes to an initial public offering (IPO). But that's not the case with over 600,000 new businesses started each year and only a scant few make it to the IPO level. But by starting small, it keeps you humble, you stay really close to your Customers, and you learn lessons at the grass-roots level which sometimes are the best lessons of all. So size, in start-ups and new businesses are not everything and stay focused at doing what you love, and the growth and its subsequent size will come if you keep at it.
Try partnering with your clients on social media – by partnering with a few trusted Clients you can drive more volume, appeal to wider audiences, and even access to new markets or channels that you may not normally have access to. The idea is quite simple and it involves leveraging each other's respective followings and audiences – it's free, your Clients/Customers/Vendors trust the source and so you will likely achieve greater traction immediately than for instance, activities from a paid ad or communication. It also gives you the chance to change the tone, style, and content of your marketing communication creating opportunities for fresh new ideas, new takes on old themes, and in general, spices up your communication message, audience and ultimately, your results! So, don't be shy – call up a Client (or two), and ask them how you can explore partnering in your communications to further leverage each other's brands, channels, and products.
In conclusion, I took some cues from my new friends and current clients, Tarek and Rachel Kanaan at Unity Vibration Living Kombucha Tea, and learned a whole bunch of cool, new things. So take it from them, even if your business starts small, stay the course, perfect your art, continue doing what you love and are passionate about, and I assure you, the rewards will come. Read more about how we worked with Unity Vibrations through invoice factoring and P.O. financing.
Want to learn more about Unity Vibrations Kombucha?
http://www.unityvibrationkombucha.com/
https://twitter.com/UKomb
To learn more about how business owners can scale and drive more growth, through tools like Factoring and other important considerations, please check out the list of blogs on this website, or you may contact us directly at info@eifunding.com. You can also find me on Twitter and LinkedIn.
-Ernane
SHARE :