How does your business get new customers? These days, a lot of small businesses are struggling to keep the customers they already have, so getting new ones can be a special challenge all on its own, especially in highly competitive markets. It's a very real problem that keeps many business owners up at night.
In my last two blogs, I talked first about your attorney and why they're important for your virtual team and then discussed the importance of why you should also have your Accountant be part of that same team. Today, we're focusing on your digital marketing team — the people who know how to convert strategies online into real results for your bottom line. Let's dive in.
Your Digital Marketing Agency & The Role They Play
The online world is where your business needs to be to stay competitive and get ahead. Converting visitors from your website leads can take a lot of work and important strategic thinking goes into finding the best way to drive website traffic and streamlining the conversion process. That's where a digital marketing agency's skills and experience come in handy.
Like your Accountant and Legal advisor, your digital marketing agency is a key strategic partner. They are the experts in the digital space, and they always have your best interest in mind. Why? Because your success is their success. Your digital marketing agency is going to work with you to implement the right tactics to meet your goals and help your business thrive — both online and off. Some of these tactics can include:
Email marketing
Web Page optimization
Social media marketing
Content marketing (blogs, e-books, etc.)
Digital advertising
These are just a few examples of how a digital marketing agency can net you more traffic, leads and customers. At the end of the day, your digital marketing agency is there to help you succeed — no matter what your goals and objectives are, and here is a list of what I believe to be some of the most important benefits provided by them.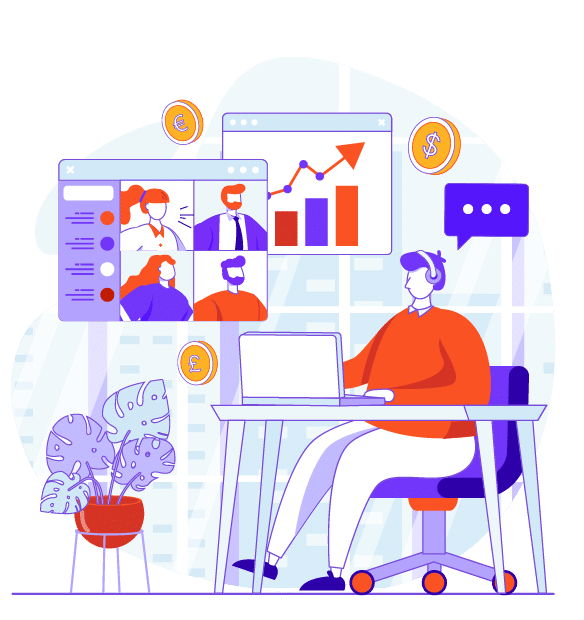 Top 4 Benefits of Having a Digital Marketing Agency
#1: They Support Your Goals & Enable Success
How many times have you looked at your sales pipeline and said to yourself…"gee, I wish I had a way to generate more business"? A digital marketing agency can help you establish business goals that are not only relevant, but also measurable and attainable. Increasing revenue by 10% year over year would be on most business owners' wishlists at the very least, but a digital marketing agency can show you how to get to that goal. They can tell you what you need to do, piece by piece, to reach your business goals and break it down by key performance indicators, or KPI's as they are better known in the business world.
When you partner with a digital marketing agency, you've got a team at your disposal 100% dedicated to helping you reach your goals in the digital space, which has become the battleground in today's post-COVID economy. They are there to help and support you, answer questions you may have about your digital strategy, and come up with a winning plan that they will execute on behalf of your business.
#2: They Get the Right People On Your Website
It's great to have a nice website that people love to look at, but that will only get you so far if it's not converting those visitors into leads and customers. Your digital marketing agency can get the right people looking at and interacting with your website. There are many ways to achieve this, such as digital advertising on Google or your preferred social platform, email marketing, or referrals, but Search Engine Optimization, or SEO, is one of the most important factors.
If you're unfamiliar with SEO (insert external link that explains the process), it's the process of optimizing your site in order to rank highly on Google based on certain relevant keywords users are typing into the search bar. SEO is a full-time job in itself. When you put SEO to work on your website for your business, you show Google why your website is worthy of a top spot on the results pages that appear when users type in a search query around your product, service or topic.
When the right audiences are looking at your website, you're getting leads to come to you that are interested in what you're selling or offering. And your agency can take those leads and nurture them into customers with conversion rate optimization (CRO), another digital marketing tactic. And that's the magic moment when your marketing team takes a good website and turns it into a revenue-generating machine.
#3: They Show You Where to Invest Online
While your digital marketing agency gets to work tightening your conversion rates and giving your website a boost with SEO, they can also pinpoint exactly where your time, energy and money are best spent. After all, you wouldn't want to waste money on Facebook or Google ads if they're not doing anything for you.
Your digital marketing agency has strong expertise in the digital arena, and they can help manage your budgets for digital advertising, social media and more. They can also make recommendations for new channels and ways to drive traffic.
If higher rankings on Google is your end goal, then your agency can come up with a strategy and advertising campaign that can increase your position on search engine results pages and get your website the visibility you're aiming for. If you want better email marketing for your sales team, they can help you deploy an effective nurture campaign that warms up leads so you can swoop in and seal the deal. It's all about doing what will be most effective for meeting your goals. Instead of guessing at what could work, your digital marketing team can show you what has the potential to hit all your goals and targets.
#4: They Track & Analyze Key Data
Data analysis is everything when it comes to making progress, and having access to data means the difference between taking a shot in the dark and making informed business decisions. Your digital marketing team can analyze the results of the strategies they put into place for you, interpret all that data and then show you what corrective and strategic actions need to be made as a result of that information.
Another benefit of having this kind of support is that you'll be able to see where your agency's marketing efforts are making the most difference for your organization and, simultaneously, where they're not. You can track your website's traffic, conversion rates and campaign lead generation numbers to get a holistic view of your efforts, and from there even calculate your return on investment (ROI). And when (not if) you need to pivot or adjust your efforts, your marketing team will be there to help you make the best decisions based on real data. You get a bird's-eye view of how everything is going and a team to guide you through the numbers.
Your Digital Marketing Agency Is Vital
Your digital marketing agency is your partner, so choosing the right one will come down to your goals and your budget. The investment is worthwhile, as you'll see a return on your investment with more website traffic, more qualified leads and more closed deals and sales.
Partnering with a digital marketing agency can make an enormous difference in how your website performs. In just a few months, your website can be primed for lead generation and revenue generation and your digital presence boosted across the web. If you're struggling to find new tactics to find new leads, then a digital marketing agency has the skills and resources you need. They're a valuable part of any business team.
To learn more about how business owners can scale and drive more growth, through tools like factoring and other important considerations, check out our latest blogs or contact us directly at info@eifunding.com. You can also find me on Twitter and LinkedIn. And if you're looking for a digital marketing agency, take a look at Designzillas and some of the terrific work they've done for companies like mine and others. I think you'll be impressed.
– Ernane
Who Else Should Be On Your Virtual Small Business Team? Read More:
SHARE :